Fire in a Bottle

Terrariums, wisdom and the ecological catastrophe
8 minutes read
- 1655 words
"Half the world is on fire," I read on an online news site today. It was an exaggeration, of course, but it made me look up the current situation. What I saw made me write this article.
The world on fire
The most reliable (and pretty depressive) source must be the European Forest Fire Information System, EFFIS. From Copernicus satellite data, they have created an always up-to-date map of forest fires worldwide.
Here's what South Europe looks like at this moment:
The red dots are the fires from the past day only. Essentially, all of South Europe is burning: Italy, Greece, Turkey, and then up to the Ukraine.
But Europe is not "half the world." Let's scroll down to Africa:
That's clearly about half of what could possibly burn in Africa, and more than half of Madagascar.
South America looks like this:
What's burning here are the rainforests of Brazil, the largest forested area in the world. The Amazon rainforest is reaching its own tipping point, after which it will be impossible to save it. It already releases more carbon dioxide into the atmosphere now than it absorbs.
I'll leave it to you to explore North America and Asia on the EFFIS. They look pretty similar, with Siberia having lost 1.5m hectares (3.7m acres) of forests to the flames this July.
What does this have to do with philosophy? I hear you ask. We'll get to this below.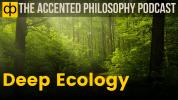 Recommended for you:
What is Deep Ecology?
In this episode, Ezechiel and Andy discuss Deep Ecology, a philosophy of respecting the rights of nature as equal to our own. But does this really work? Can we make sense of treating nature with just the same consideration that we give ourselves?
From bad to worse
Not that I want to spoil your weekend, but the fires are only a small part of what's going wrong with the environment right now. After all, forest fires have always been a natural part of the life-cycle of forests and, in the long run, forests tend to recover from the damages (if enough is left of them). But the recovery of an old forest can take centuries of growth, and it's not clear whether we still have so much time to wait for those trees to come back.
Because every tree that burns in a fire is not only adding carbon dioxide to the atmosphere from the wood burned. It also stops acting as a carbon dioxide sink, a pump that takes CO2 out of the air and converts it into solid wood. With deforestation also come other uses of the now bare land, often farming and livestock grazing, which themselves contribute even more carbon dioxide to the air.
And as the world heats up, familiar weather patterns start to break up. Only two days ago came the news that the Gulf Stream is showing signs of weakening, with a possibility of it entirely collapsing. The Guardian:
Such an event would have catastrophic consequences around the world, severely disrupting the rains that billions of people depend on for food in India, South America and West Africa; increasing storms and lowering temperatures in Europe; and pushing up the sea level off eastern North America. It would also further endanger the Amazon rainforest and Antarctic ice sheets. (
The Guardian
)
…but is it philosophy?
So that's the state of the world at the moment, with news that made headlines in this past week. It's not like I had to search for these articles. They're all over the place. Open any truthful news source and you see the world burning, heating, melting, asphyxiating, collapsing.
But still: Is it philosophy?
"Philosophy" is a Greek word. "Philia" means friendship or love. "Sophia" means wisdom. Literally, philosophy is the love of wisdom.
There's a classic criticism of Artificial Intelligence. Since the 1970s, researchers have been building more and more impressive chess programs, which today are much better at playing chess than any human being. But is this alone true intelligence?
AI researcher Terry Winograd, later turned AI critic, once wrote:
A brilliant chess move while the room is filling with smoke because the house is burning down does not show intelligence.
This sounds eerily familiar. A brilliant philosophical argument while the Earth is filling with smoke (or CO2) doesn't seem to show much intelligence, not to even mention wisdom.
Wisdom, we would assume, should force us to look at the world around us, to try and see what's wrong with it, to understand how it relates to our happiness and our human flourishing, and then to do what we must in order to improve our lives, to make them healthier, happier, more meaningful and more satisfying.
And this requires us to have a world to look at in the first place.
Closed worlds
My kids recently became interested in creating closed ecosystems in bottles: closed terrariums.
What you do is take a bottle or a glass jar, fill in some gravel at the bottom, add soil, moss, and small plants on top. Perhaps a couple of wood lice, or springtails. And then you close it tight and never open it again.
Ideally, the cycles of life on Earth will complete themselves inside the closed system. Energy from the sun will go in through the glass walls of the jar, but no matter. The plants will convert the CO2 into oxygen, then the little insects will convert the oxygen back to CO2. They will eat rotting leaves and other dead matter and convert it into fertiliser for the plants. Microorganisms in the soil will do the rest and provide nitrogen and other materials by helping decompose dead matter into its components that are then recycled to feed new life inside the jar.
There is a fascinating YouTube channel, SerpaDesign, that teaches just that thing: how to create living worlds inside glass jars.
We created four of those. A very big jar, two middle ones, and a very small one: a small, empty curry bottle from the spice rack.
As we were all assembled around the table, watching life going on inside these jars, it occurred to me that these bottles represent much safer biotopes than those outside in nature: those that are burning, being flooded, being poisoned by the microplastics and heavy metals that we create. Actually, it might so happen that these plants and insects go extinct in the wild — and perhaps the only ones remaining will be those within these bottles, living their lives inside these closed systems forever: eternally reproducing, recycling, dying and living again using the same handful of resources in that endless cycle of nature.
There's only one bottle
And then I had this other thought.
For the little springtails inside the jar, it probably doesn't make a difference whether they live inside it or outside. The jar is so much bigger than the horizon of their perception that they will probably be able to happily walk around their small world all their lives, never realising that they are going in circles. Not minding that they never escape their glass-walled prison.
And this is exactly the situation we all are in. We are too small to see the jar's walls, but we too are just locked into this blue-white ball of water, air and soil, and doing our thing in the eternal circle of life, recycling the same handful of matter over and over again. We too feel that our bottle is endless, just like those insects do.
But it's not.
Today, we can fly all around our glass jar in two days or so. Our Earth is a closed bottle, a terrarium just like the one that sits on my table and that my kids are discussing right now, looking at the green leaves and the happy springtails inside.
The Earth is a closed bottle, nothing more. It is the only one we have. And outside is nothing but deadly, empty space.
◊ ◊ ◊
In case you missed it…
In case you missed last week's highlights on Daily Philosophy, here's a short taste. Everything is free, so click on what sounds interesting to read it!
One may be held responsible not only for one's actions, one by one, but to some significant degree for the kind of person one is: that part of oneself that is one's formed character. Part of taking responsibility for one's actions and for one's life may be traced to building up the kind of personality that judges wisely. If that is the case, one may be held indirectly responsible for one's actions because one has done nothing to change the kind of person one is, namely one who acts unwisely or fails to act as wisely as one might.
Read the full article at the link above.
In the Accented Philosophy Podcast, we talked about the concept of Human Autonomy and what it really means to be "autonomous" and "free."

And Dr Lucy Weir, philosopher, environmentalist and Yoga teacher, gave us a wonderful article about "Agency in the Anthropocene":
One of the major questions we face as the ecological emergency deepens is whether or not we humans are natural, in the same way that the rest of the biosphere is. If we are natural beings who evolved with everything else, why have we had such a hugely detrimental impact on that biosphere, which also happens to be our home?
Read the full article here.
◊ ◊ ◊
Thanks for reading!
Cover image by Sven Brandsma on Unsplash. Terrariums by SerpaDesign.