Am I irrational?

And how would I know?
8 minutes read
- 1633 words
People as well as large-scale events, for example the Durch Tulip Mania or the technology crash in the early 2000s, are sometimes said to be irrational. But what exactly do we mean by that?
Other people are frequently irrational, and infuriating. But how do we tell, really, when they're irrational? After all, they often get pretty angry when we point their irrationality out to them.
Examples of irrationality include thinking illogically, engaging in behaviour that is not in our best interests, or having emotional responses that are not warranted by circumstances. If I believe that it is raining and not raining at the same time, this is irrational. But how dare you suggest my emotional reaction is unwarranted? I'm always perfectly reasonable. Psychologists have also uncovered biases in people's reasoning processes that seem to show that we do not think clearly, or rationally. Many of these biases were uncovered by asking people to respond to scenarios. One of these famous examples is 'Linda'.
Linda is 31 years old, single, outspoken, and very bright. She majored in philosophy. As a student, she was deeply concerned with issues of discrimination and social justice, and also participated in anti-nuclear demonstrations.
Which is more probable?
Linda is a bank teller
Linda is a bank teller and is active in the feminist movement.
What did you pick?
'2' is the wrong answer. I picked '2' when first given this problem and am consequently really keen to prove that I'm not an idiot.
Psychologists have also uncovered biases in people's reasoning processes that seem to show that we do not think clearly, or rationally. 

Daniel Kahneman and Amos Tversky, who developed this example and tried it out on people, argue that picking '2' is a conjunction error. We don't realise that the probability of two events occurring together is always less than or equal to the probability of either one occurring alone. If we compare two groups: all female bank tellers, and all female bank tellers who are active in the feminist movement, the numbers of feminist bank tellers will be equal or less than the group of all female bank tellers. So, it is more probable that Linda is a bank teller than that she is a feminist bank teller.
What's going on here though? Somehow, this doesn't feel right. If your response is 'But that wasn't the question I was answering' you might be on to something.
Saving Linda
Probability is a term used in statistics, but without some prompt to guide us towards dredging up our secondary school statistics knowledge, 'probable' can be interpreted in a number of ways. In the context of the Linda example it can mean 'Which is a better description of Linda?' or 'Which statement best characterises what kind of person Linda is?'. If we are to answer the question in terms of probabilities, then the descriptive information about Linda – that she studied philosophy and is interested in social justice – are irrelevant.
However, when asked a question, we generally do try to take account of all relevant information we're given. In this case, Linda's social justice credentials do appear relevant. How likely is it that a woman who is interested in social justice issues is not a feminist? Once we know this information about Linda, it makes it more likely than not that she is active in the feminist movement.
The other problem with the Linda example is that probability has to do with groups. Our assessment of individuals is different. I know that, on average, men are stronger than women. If you were to ask me whether I wanted to be punched by a man or a woman, I'd go for a woman. However, if you give me the choice between an actual woman and an actual man, I'd set my knowledge of statistics aside and assess the size of the biceps of the two individuals in front of me. I think something similar is going on with the Linda example. In theory, yes, it is more probable that a woman is a bank teller than a feminist bank teller. But given Linda, and everything I know about her, my assessment changes. It isn't immediately clear that this question is about statistics.
Rational manias
We don't just describe individual behaviour as irrational, but also tend to think some large scale events are irrational, for example the Dutch Tulip Mania, or the technology crash in the early 2000s (possibly to be repeated in the 2022s). When we say these things are irrational it usually means that we do not understand them, or cannot make sense of what's going on.
We don't just describe individual behaviour as irrational, but also tend to think some large scale events are irrational. 

The Dutch Tulip Mania is a good case. The very word 'mania' suggests that something very peculiar was going on. The standard description of what happened comes to us from Mackay, writing in the 19th century. Tulips arrived in Europe from Turkey in the mid 1500s, and the Netherlands became one of the main centres of cultivation. A market soon developed, with rare varieties selling for significant amounts of cash. By 1636, price rises had attracted speculators, and prices surged between November 1636 and January 1637. In February 1637, prices collapsed to 10% of their previous values. By 1739, the prices of the most popular varieties during the mania had fallen to 1/200 of one percent of peak prices. The standard story concludes that the collapse led to economic distress in the Netherlands.
However, this isn't the whole story. As Garber points out, it isn't clear what the price of rare tulip bulbs should have been. Mackay assumed that bulb prices 60 or 200 years after the crisis were realistic prices. The mania centrered around rare varieties and, even today, when a new variety of flower is developed, it sells for a high price. As the bulbs accumulate, the price falls. Garber compares tulip bulb price rises and falls with bulb prices in the 18th century and finds that overall, pricing patterns are not that different. There is also no evidence that economic woes followed. The mania appears not to have been so manic after all.
The supposed irrationality of the tulip example, and other market crashes assume that we know what the real value of investments are. Consider the tech crash in 2001. The Nasdaq (an index of technology companies) rose 400% between 1995 and March 2000. By October 2002 it had fallen 78%. Before March 2000, opinions were divided. Optimists argued that this was the beginning of a new revolution – one with technology at the forefront of economic change.
Just because investors were wrong about some companies, doesn't mean they were irrational. Irrationality means that there is something wrong with the reasoning process. 

Doubters thought investors were crazy to be paying high valuations for new companies, many of which were unprofitable, on the promise of a 'new economy'. As we all know, prices of technology companies collapsed and the 'irrational' explanation won. Nevertheless, 20 years later, a lot of the optimism in the late '90s seems warranted. Who would have thought that Amazon, an online bookseller, would become one of the largest producers of film and TV content, or that people would have multiple Alexas in their homes. In many ways we are in a new economy. Furthermore, an investor who invested in the NASDAQ at the peak of the bubble and held on until today would have made money. This is not true for individual companies though.
Were investors irrational in the late 90s? Some companies were clearly unsustainable – who remembers pets.com? But just because investors were wrong about some companies, or lost money, doesn't mean they were irrational. Irrationality means that there is something wrong with their reasoning process. When dealing with uncertainty, it is extraordinarily difficult to work out what is going to happen, and when. So reasoning well is no guarantee of success.
What to do with the irrational?
When someone appears to be irrational it is worth asking ourselves whether they are answering the same question as us. As in the Linda example, they may be thinking about statistics while we may be thinking about plausible descriptions. Similarly, when we observe a crazy mania it is worth pausing and wondering whether, if seen from a different perspective, it isn't all that irrational after all. This doesn't mean we have to leap on board the latest craze. People may lose money, but this doesn't mean they are irrational.
Further reading
Garber, P. M. (2001). Famous first bubbles: The fundamentals of early manias. MIT Press.
Garber, P. M: Famous first bubbles. In this insightful book, Garber analyses "bubbles," "tulipmanias," "chain letters," "Ponzi schemes," "panics," "crashes" and other such events and attempts to explain how they come about and what drives them.

Amazon affiliate link. If you buy through this link, Daily Philosophy will get a small commission at no cost to you. Thanks!
◊ ◊ ◊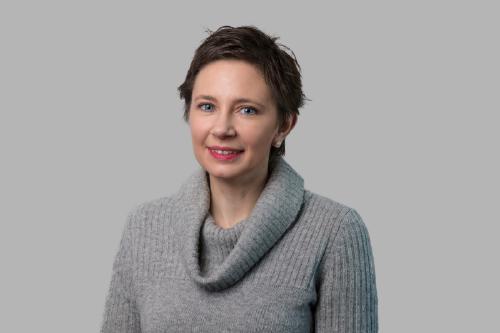 Catherine Greene is a Research Associate at the Centre for Philosophy of Natural and Social Science at the London School of Economics. Her research interests are the philosophy of finance and social science. Before studying for a PhD she had a career in finance and still consults an ethics and investment strategy. More information is available at
www.catherinegreene.co.uk
Catherine Greene on Daily Philosophy:
Cover image: Libby Penner on Unsplash.