Does Gratefulness Work?

The science behind gratitude diaries
8 minutes read
- 1691 words
Gratefulness has been proposed as a way to increase one's happiness in life. But does it work? We look at the science of gratitude diaries to find out whether gratefulness has a positive effect on happiness.
This is a part of year-long series of articles, in which we examine six different philosophies of happiness and how they apply to today's life. Find all the articles in this series here.
What does science have to say about gratefulness? Does practising gratefulness, as David Steindl-Rast says, really make us happier?
The biological basis of gratefulness
Once again, The Psychology of Gratitude (Emmons and McCullough, Oxford University Press, 2004) comes to our rescue. In their article "Gratitude in Modern Life," Dan P. McAdams and Jack J. Bauer discuss the argument that gratitude forms part of our evolutionary adaptation to a social life and to moral behaviour in general:
De Waal has argued that human beings have evolved to exhibit such sympathy-related traits as attachment and cognitive empathy, to establish and respect prescriptive social rules, to reciprocate in kind (be it an act of kindness or revenge), and to engage in behaviors and to formulate mental strategies that promote getting along with each other. (p.86)
There is some evidence that we might have special neural circuits in our brains, the so-called "mirror neurons," that form the basis of empathy: our ability to put ourselves "into the shoes" of someone whom we observe, to "feel" how the person opposite us must feel, although the details of how this might work are disputed. Regardless of the neuroscience of empathy, it is clear that most of us do have this ability to feel how other people feel to varying degrees. And the total absence of empathy is a pathological state sometimes found in psychopathic criminals.
As important as empathy and rule-following are, we know from the Prisoner's Dilemma that successful social interaction also must involve retaliation. In 1984, Robert Axelrod in "The Evolution of Cooperation," showed that the most successful cooperation of two parties involves initial trust, followed by the revenge if the other party betrays that trust (which has become known as "tit-for-tat" strategy).
In this context, it is reasonable to suggest that showing gratitude and expecting it from others might qualify as an evolved behavioral adaptation, rooted in reciprocity and designed to facilitate getting along. … Gratitude may be grouped, therefore, in the same family as kin selection and reciprocal altruism—evolved adaptations that have proven so useful for fitness in group living that they have become, more or less, foundational features of human nature. (The Psychology of Gratitude, p.86)
Gratitude diaries
A common way to systematically integrate gratitude into one's life is to commit to writing a "gratitude diary." This can, for example, take the form of a list, in which the person notes what they were grateful for on each particular day.
There have been many studies on the effects of writing gratitude diaries on happiness, for example Cunha, Pellanda and Tozzi Reppold (2019) with over 400 participants1:
Participants … were asked to write daily gratitude lists for 14 days, listing moments they had been grateful for during the day. The outcomes analyzed were affect, depression, happiness and life satisfaction. … Before the intervention, the groups did not differ in any of the variables examined. … The gratitude intervention managed to increase positive affect, subjective happiness and life satisfaction, and reduce negative affect and depression symptoms.
Joshua Brown and Joel Wong 2 examined whether writing gratitude letters might be beneficial for people who struggle with mental health concerns.
We randomly assigned our study participants into three groups. Although all three groups received counseling services, the first group was also instructed to write one letter of gratitude to another person each week for three weeks, whereas the second group was asked to write about their deepest thoughts and feelings about negative experiences. The third group did not do any writing activity.
It turned out that the group who were asked to write gratitude letters had significantly better mental health both four and 12 weeks after the writing exercise had ended.
Interestingly, it was irrelevant whether the letter was actually delivered to the recipient. The effect of writing the letter on the mental health of its writer was the same, even if the letter was not shared with the recipient. Also, it took some time for the benefits to manifest themselves. One week after the writing exercise, the letter writers did not show any difference in mental health from the control group. The differences only became clear four weeks after the end of the writing period, and they became even bigger after 12 weeks. So we should not expect the effects of gratitude diaries or letters to become immediately apparent. Obviously, gratitude reprograms the brain in a way that takes some time to show results.
Brown and Wong also report that gratitude seemed to change the activity levels in the brain in a lasting way. The gratitude group showed greater activity in those areas of the brain that are associated with learning and decision making.
A recent Chinese study found somewhat different time profiles, but confirms the general idea3: participants who felt more gratitude on a particular day had lower levels of stress and Covid-19 anxiety on the same and the next day. But, differently from the previous study we saw above, these effects were not long lasting: after a month they were gone and could not be detected any more.
Kori D. Miller summarises some more findings4:
Gratitude buffers people from stress and depression (Wood, Maltby, Gillett, Linley, & Joseph, 2008). … Patients who expressed optimism/gratitude two weeks after an acute coronary event had healthier hearts (Huffman, Beale, Beach, Celano, Belcher, Moore, Suarez, Gandhi, Motiwala, Gaggin, & Januzzi 2015). … Gratitude and spiritual well-being are related to positive affect, sleep quality, energy, self-efficacy, and lower cellular inflammation (Mills, Redwine, Wilson, Pung, Chinh, Greenberg, Lunde, Maisel, & Raisinghani, 2015).
And, finally, gratitude can also counteract feelings of loneliness in older adults5:
The findings of the current study showed a negative association between trait gratitude and loneliness, consistent with prior research (Caputo, 2015; Ni et al., 2015; O'Connell et al., 2016). Evidently, adults of 40 years and older who felt more grateful in everyday life experienced less feelings of loneliness. … Gratitude can increase communication, bind people closer together, and foster social relationships (Algoe, 2012; Fredrickson, 2004).
In our own lives…
I think that it would be interesting to try this out in our own lives! I will certainly do that in the coming week, and I would be very interested to see what experiences you make with writing gratitude lists, letters or diaries.
Remember, it does not matter whether you actually send a gratitude letter to a recipient, so it is really just another form of a diary; but for some of us who are not used to diary writing, writing a letter that is addressed to a friend, a colleague or a family member may appear more natural. In any case, the effect seems to be the same.
So let us take just a few minutes every evening to write down either a list of things that we were consciously grateful for over the previous day; or a short diary entry that allows us to visualise the situations in which we felt gratitude; or, finally, a letter to someone we felt grateful to: a child that made us laugh, a neighbour who showed us kindness, a colleague who helped us out with some small problem at work, or even a kind stranger on the bus. Five to ten lines, about half a page of text, should be more than enough to remind us of the situation.
Remember also that the effects will not necessarily become apparent immediately, but perhaps only after a few weeks, so don't become impatient if nothing much seems to happen at first. Just go on anyway and the results will eventually show themselves. And then let us all share our experiences. You don't need to write any details, if this would feel uncomfortable. Just the feeling after a week, after two weeks, after a month would be enough: did you feel better after this exercise? Did you feel less anxious, more positive and optimistic, more in control of your life? Or didn't anything change?
Leave a comment below to share your experience! Thanks!
◊ ◊ ◊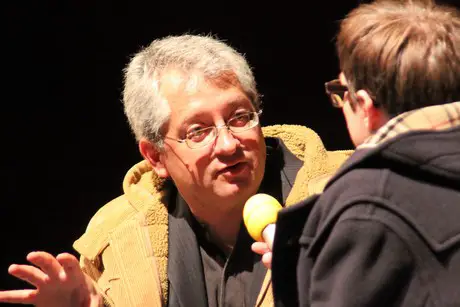 Cover image by Carlo Knell on Unsplash.