Should We Fear Technological Unemployment?
7 minutes read
- 1308 words
There are a lot of things that we no longer have to do ourselves. Machines now do them for us. Of course right now there is still plenty for us to do, but if the trend continues and the machines we build get more and more intelligent, sophisticated, and powerful, which is likely, then there is a real possibility that it will become less and less necessary for us to do any work ourselves. Automated labour, performed by machines, will then eventually replace all or most labour performed by us. If and when that happens, then we will have reached an age of technological unemployment. Would that be a good thing? Should we welcome the prospect, or should we dread it?
On the face of it, technological unemployment is an enticing prospect. In practical terms it would mean that we would no longer have to work to earn a living. We would have everything we need and want without having to spend time on activities that we do not really want to do, because machines would take care of everything. As it stands, many people are unhappy with the kind of work they do. Even if we are lucky enough to do something for a living that we like to do and would do even if we didn't get paid for it, to get rid of the need to work and sell our labour and skills in some way is surely a good thing. We would then be completely free to choose what to do and what not to do.
It has been argued that, if we are not careful, widespread technological unemployment may well undermine our ability to live a meaningful life. 

However, it has been argued1 that, if we are not careful, widespread technological unemployment may well undermine our ability to live a meaningful life and that in order to prevent this from happening we need to develop the right kind of technology and relate to it in the right way. The problem is that in an age of technological unemployment machines will have taken over and replaced us as the producers of value. They will then create all the good stuff and make the world a better place, while we are reduced to mere observers and passive beneficiaries. Accordingly, if we want to prevent a loss of meaning, what we have to do is avoid increased externalisation and, instead, pursue increased integration, which means that, instead of merely using technology, we directly integrate technology into our bodies.
It seems to me, though, that increasing technological unemployment would not necessarily be a problem even if we do not become cyborgs. The reason why unemployment is often so devastating to those who experience it is that it usually comes with a loss of a decent income, a loss of social recognition, and an abundance of free time that they have never learned to (or, being now unemployed, have not got the means to) put to good use.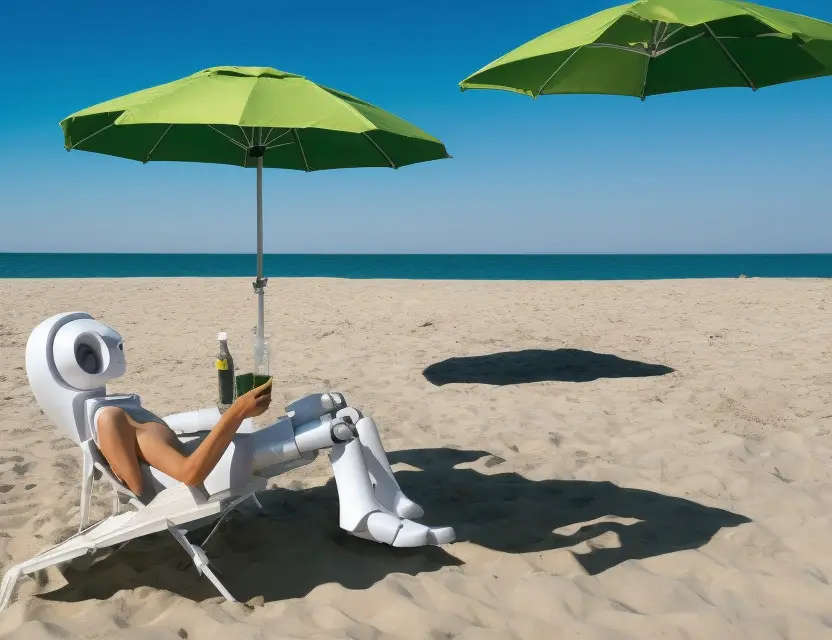 If you have little to live on, people look down on you with pity or contempt, and you have no idea how to fill the long hours of the day, then you may be excused for losing an appetite for living. However, per hypothesis, technological unemployment is different: it is assumed that we will not suffer a loss of income or a loss of social recognition (we will, after all, all be in the same situation). We will simply not have to work. Admittedly, we may find that we have too much time on our hands, but that is mostly a matter of developing the right mind set. There is no evidence that, in our own pre-technological unemployment age, those belonging to the so-called leisure class find their lives any less meaningful than those who actually have to work to make a living. If you are wealthy, you are unlikely to be desperately looking for a job, just to have something to do. If you never had to work, then you won't miss it. You will know what to do with your time and will not feel what those who have lost their job often feel: the loss of a sense of purpose. You may not live a particularly meaningful life (if meaning be understood as requiring some sort of connection and active pursuit of what is really, "objectively" valuable in life), but then again, those who are in work may not do so either. The point is that the wealthy do not seem to be any more likely to live a meaningless life than anybody else.
If you never had to work, then you won't miss it. 

Or think of retirement. People retire from work. Some look forward to it, others dread it, but most find a way to deal with it. It may, of course, take a while to get used to the change, especially if you have never known a life without work. Since our whole life is usually organized around work, we tend to define ourselves through it. When we retire, we need to learn to define ourselves differently and develop a different mind-set. Not easy perhaps, but far from impossible. If or when the age of technological unemployment hits us, it will be as if humanity as a whole went into retirement. But that won't happen overnight. Most likely, we will slowly and gradually slide into it and thus learn to live with the changing circumstances as we go along.
But would there be anything left for us to do? In an age of technological unemployment the machines may end up doing all the interesting things, all that is potentially meaning-generating for the agent, that is the one who does them, while we humans would be reduced to mere onlookers. Who knows, even this short essay may already have been written by a machine. However, meaning is not the prerogative of agents. Merely observing and experiencing the world and what is going on in it can be immensely rewarding too. We can find meaning in reading other people's books, studying other people's paintings, and listening to other people's music. We can find meaning wandering through a landscape that we have not designed, and swimming in a sea that we have not created. So why then should we not be able to find meaning in the achievements of the machines we have built? With the right mind-set, human-machine integration is not needed. Continued separation will do just fine.
◊ ◊ ◊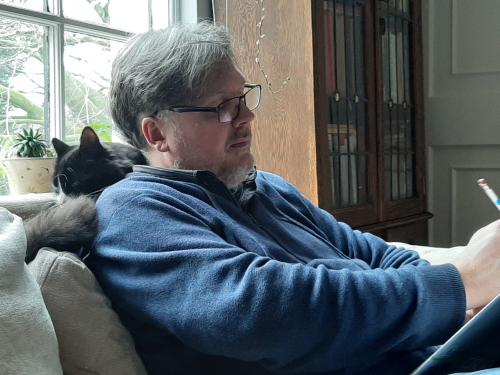 Michael Hauskeller is Professor of Philosophy and Head of the Philosophy Department at the University of Liverpool, UK. He specializes in moral and existential philosophy, but has also done work in various other areas, most notably phenomenology (the theory of atmospheres), the philosophy of art and beauty, and the philosophy of human enhancement.
His publications include Biotechnology and the Integrity of Life (Routledge 2007), Better Humans? Understanding the Enhancement Project (Routledge 2013), Sex and the Posthuman Condition (Palgrave Macmillan 2014), The Palgrave Handbook of Posthumanism in Film and Television (ed. with T. Philbeck and C. Carbonell, Palgrave 2015), Mythologies of Transhumanism (Palgrave Macmillan 2016), Moral Enhancement. Critical Perspectives (ed. with L. Coyne, Cambridge University Press 2018), and The Meaning of Life and Death (Bloomsbury 2019). His most recent book is The Things that Really Matter. Philosophical Conversations on the Cornerstones of Life (UCL Press, 2022).
Michael Hauskeller on Daily Philosophy:
Images by Dreamstudio.ai.
---
"Will Life Be Worth Living in a World Without Work? Technological Unemployment and the Meaning of Life", Science and Engineering Ethics 23/1 (2017): 41-64. ↩︎