The Stoic View of the Self

Being in someone else's shoes
12 minutes read
- 2344 words
For the Stoics, everything that happens to us seems to have a special significance that the same event wouldn't have if it happened to someone else. When I miss the bus, I'm upset. When the dude in the blue suit over there misses the same bus, I'm not. This insight is at the core of the Stoic philosophy of life.
First person and third person
The Stoic philosopher Epictetus (~50-135 AD) writes in his famous Handbook:
When you see anyone weeping in grief because his son has gone abroad, or is dead, or because he has suffered in his affairs, be careful that the appearance may not misdirect you. Instead, distinguish within your own mind, and be prepared to say, "It's not the accident that distresses this person, because it doesn't distress another person; it is the judgment which he makes about it." As far as words go, however, don't reduce yourself to his level, and certainly do not moan with him. Do not moan inwardly either.
We talked previously about how Stoics distinguish between what one can control and what is out of one's control. An important point is to realise, the Stoics think, that the only thing we can effectively control is our own mind and how it perceives the world. The world itself, on the other hand, is entirely out of our control.
This is what Epictetus means when he says: "It's not the accident that distresses this person … It is the judgment which he makes about it."
But how do we know that this is true? How do we know that Epictetus is right? It's here that the little sentence which I just left out comes into play: "…because it doesn't distress another person."
"It's not the accident that distresses this person … It is the judgment which he makes about it." – Epictetus 

So the idea is that we have an accident. Let's say, my favourite cup breaks. Naturally, we would say, I'm upset about this. But Epictetus disagrees. Look, he says. Let's take the exact same situation of the cup breaking, but instead of you we put a random other person in your shoes; let's say, the guy who stood beside you in the supermarket check-out line this afternoon. Are you now upset that his cup was broken? – No, you say, not at all.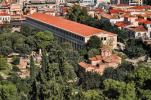 What Does 'Stoic' Mean?
A 'Stoic' attitude to life aims to achieve lasting happiness by staying calm, rational and emotionally detached, while cultivating one's virtues.
But then, Epictetus would conclude, the upsetting element cannot be the breaking of the cup, because we assumed that this happened in the same way in both cases. Nothing about the cup itself was different, and yet your reaction is different. So the only thing that is different is our judgement that we make about the broken cup. In the case that it's my cup, I'm are upset. If it's the other guy's cup, I'm not (but he presumably is).
In the same way, we can see that everything that happens to us seems to have a special significance that the same event wouldn't have if it happened to someone else. When I miss the bus, I'm upset. When the dude in the blue suit over there misses the same bus, I'm not.
But now let's try to see the events objectively; and this is one of the cornerstones of the Stoic view of the world. The Stoics always emphasise that our personal view is distorted, an illusion. What is real is the fact that we are all more or less the same, equal in value, have the same rights and obligations, were made in the same way by nature, share the same history and most of our genes, as well as most of our preferences, aspirations and dreams for the future. There is really not much of a difference between any two humans, and you can verify this by looking at two random people on the street. Most likely, they would appear to you to be pretty much interchangeable.
The illusion of the Self
In fact, everyone looks interchangeable to everyone else, with one exception: each person sees themselves as the one person that is not interchangeable, that is unique and valuable in a way that all others aren't.
But, Epictetus says, if this is the case, then this feeling of being special must be an illusion. If seven billion people on Earth (minus one) think that I'm just an interchangeable nobody, and only I disagree; and if this is true of everyone in the same way, than we must conclude that the one who disagrees must be mistaken and deluded about their own importance. Otherwise, seven billion people must be wrong and only I would be right, which seems hard to believe.
Live Happier with Aristotle: Inspiration and Workbook (Daily Philosophy Guides to Happiness).
In this book, philosophy professor, founder and editor of the Daily Philosophy web magazine, Dr Andreas Matthias takes us all the way back to the ancient Greek philosopher Aristotle in the search for wisdom and guidance on how we can live better, happier and more satisfying lives today.
Get it now on Amazon! Click here!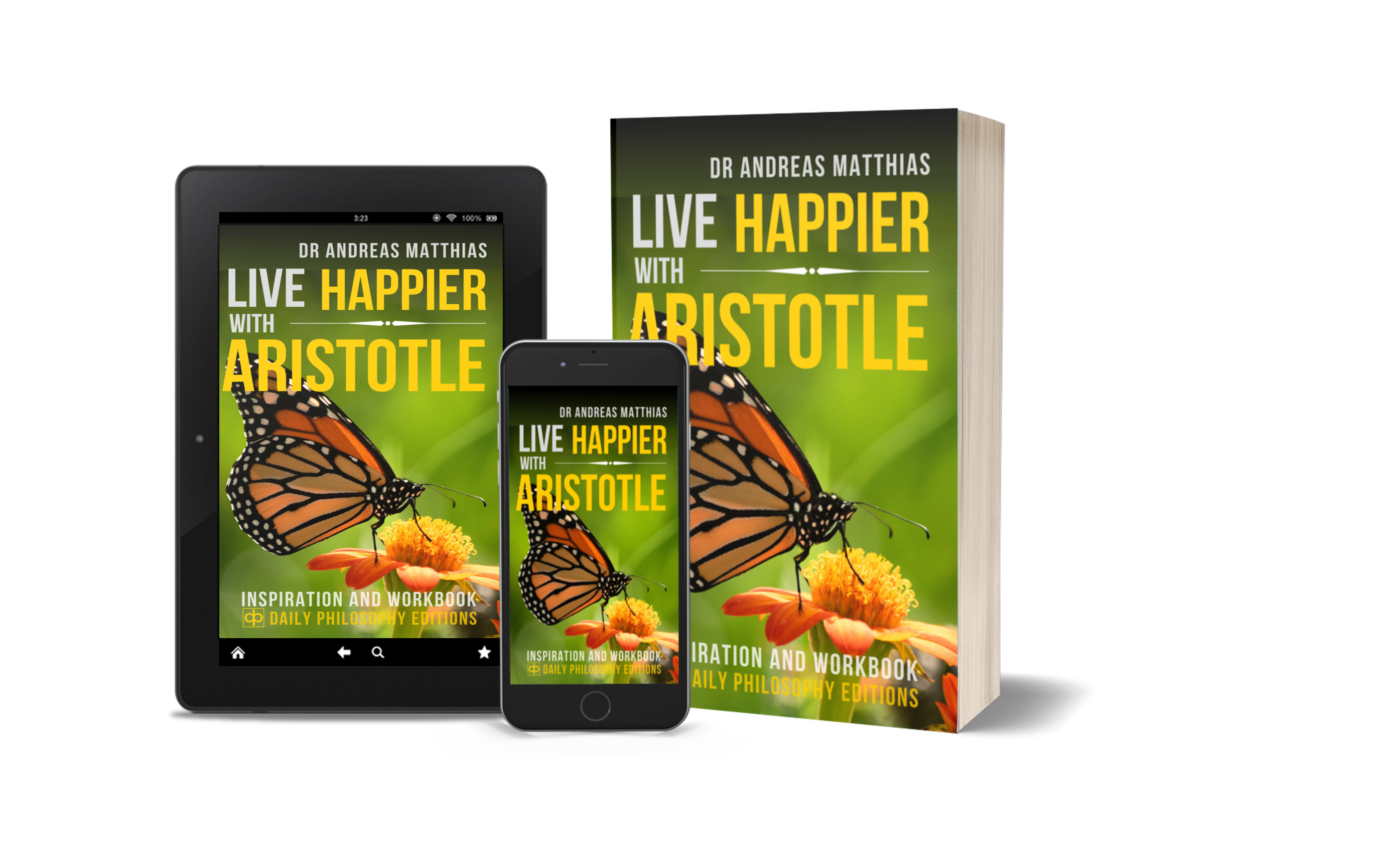 What follows from this? That our subjective sense of our own importance to ourselves is an illusion. Seen objectively, we are no more important than anyone else, and the wise person should learn to see themselves as just one person in the crowd. In this way, the Stoic wise person would reach what we would perhaps today call an "enlightened" state of mind: the awareness of their own true place in the world, free from the deception that haunts all of us who have not yet reached this stage.
Epictetus again:
The will of nature may be learned from those things in which we don't distinguish from each other. For example, when our neighbor's boy breaks a cup, or the like, we are presently ready to say, "These things will happen."
Be assured, then, that when your own cup likewise is broken, you ought to be affected just as when another's cup was broken. … But it should be remembered how we are affected in hearing the same thing concerning others.
I removed a little but very significant bit from this quote, because I'd like to talk about it in a future post. For now, here is again Epictetus insight into what makes men miserable.
Seen from the outside, Epictetus says, we are all equally valuable and all men's problems are equally important. The first-person perspective, in which "I" am more important than anyone else, is therefore an illusion, created by the mind. It is a (false) judgement added by the individual, not something present in the world.
It is also important to realise that one person's gain is another person's loss. Essentially, therefore, gain and loss are zero-sum concepts. Since objectively nothing makes me special, there is no justification to pursue my gain at the cost of other people's loss. It would be irrational to do so, since I would put a lot of effort into making no difference at all in the world.
Since objectively nothing makes me special, there is no justification to pursue my gain at the cost of other people's loss. 

The idea of "my" interest is therefore an illusion. The rational person must learn to detach themselves from what is commonly (and wrongly) seen as "one's own" interest.
Through practice (remember Aristotle?) we can gain control of our emotions and act rationally (and in the interest of all). This is a point that Marcus Aurelius specifically emphasises in his Meditations.
Stoic moderation
Epictetus:
"15. Remember that you must behave in life as at a dinner party. Is anything brought around to you? Put out your hand and take your share with moderation. Does it pass by you? Don't stop it. Is it not yet come? Don't stretch your desire towards it, but wait till it reaches you. Do this with regard to children, to a wife, to public posts, to riches, and you will eventually be a worthy partner of the feasts of the gods." (Enchiridion)
The Stoic ideal of moderation follows directly from the idea we saw just now: that everyone's claim to be considered is equal and that none of us is better or more important or valuable than anyone else.
If this is true, and if we were able to see the reality as it is, without our distorting first-person view, then we must realise that we all have the same right to obtain, own and consume things. If valuable things are limited, which is usually the case, then this requires moderation by everyone so that there is enough left for the others: this is why the metaphor of the dinner party is so fitting.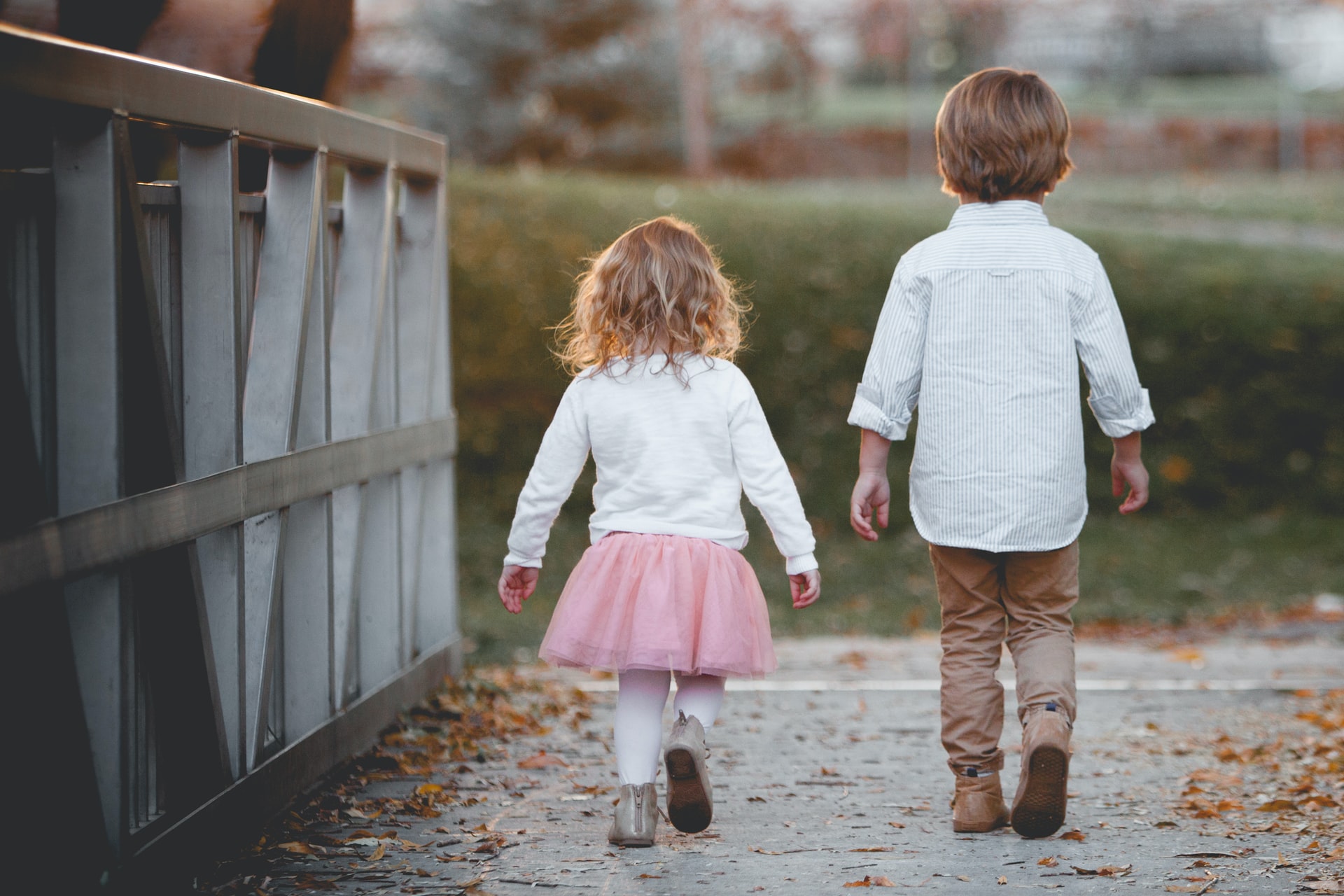 The Stoic practice
Epictetus:
Every habit and faculty is maintained and increased by the corresponding actions: the habit of walking by walking, the habit of running by running. (…) [But] if you shall have lain down ten days, get up and attempt to make a long walk, and you will see how your legs are weakened. Generally, then, if you would make anything a habit, do it; if you would not make it a habit, do not do it, but accustom yourself to do something else in place of it. So it is with respect to the affections of the soul: when you have been angry, you must know that not only has this evil befallen you, but that you have also increased the habit, and in a manner thrown fuel upon fire. (Discourses, p.95)
The Stoic sage (or wise person) is therefore one who, through long habituation, learns to see themselves as they truly are. And this is, to return to a previous post, why the Stoic "sciences," physics, logic and ethics, are so important: they teach us to see the world as it truly is and to avoid being deceived by mere (and wrong) appearances.
The Stoic sage (or wise person) is therefore one who, through long habituation, learns to see themselves as they truly are. 

But like Aristotle, Epictetus also emphasises the value of long practice: virtuous and right behaviour is not a matter of a momentary insight or purely theoretical knowledge. The Stoic wise person must, instead, spend many years training themselves to see the world as it is, to clearly recognise and accept their own place in it and to habituate themselves to behave right in the Stoic way.
Only then will one's wishes be aligned with the truth, one's energies utilised in the most efficient way for the benefit of all, and one's happiness unperturbed by accidents and unjustified emotions.
Epictetus, The Enchiridion. Over the centuries, this ancient handbook of wisdom has accompanied the lives of countless people who relied on it for advice and comfort when times got rough. It is still one of the most significant philosophical works about happiness and wisdom in all of history.

Amazon affiliate link. If you buy through this link, Daily Philosophy will get a small commission at no cost to you. Thanks!
Let's try it!
This way of looking at oneself is very difficult to get used to at first. It is very alien to us, in our Western societies that have been built around the notion of the individual who frantically pursues their own happiness through maximising their private consumption, to see ourselves as mere parts of a whole, as persons who have as much of a claim to the world's resources as any other person.
But there are some points at which the Stoic attitude still makes sense to us today. And perhaps these are the points where we can begin to get a feeling for what Epictetus is saying.
For example, while we measure and monetise the consumption of water, food, living space, clothing and mobility of every person, we don't do it in the same way with air. We seem to have agreed that air should be available to all of us equally and entirely free of charge, which is, if you think about it, quite surprising. But looking at it from a Stoic perspective, can give us a feeling for that brotherhood (or sisterhood) that the Stoics are advocating: the understanding that we are all the same, and that a king breathes the same air and does so with the same right as the beggar who sits outside the palace doors.
Another area where we can practice a Stoic attitude is driving a car. I don't know about you, but I tend to turn into an entirely un-Stoic monster behind a car's steering wheel. Suddenly it seems like everyone else on the streets is out just to annoy me: that truck that blocks my way, that car that cuts in front of me, these pedestrians walking their dogs right in the middle of the road I want to drive on!
But we can also see such a situation as the perfect opportunity to practice the Stoic virtues. If I think about it for a moment, I will have to admit that none of the people that so enrage me is actually targeting me. Usually, they don't even know I'm there, and even if they knew, they wouldn't care. What enrages and annoys me is my own, distorted perception, not the truth of the situation itself. So I should calm down, the Stoics would say, and realise that my car is just as important in the grand scheme of traffic in my city as anybody else's. It is as much in the way of other people's driving as their cars are in my way. When I cross the street as a pedestrian, it's me who now is the obstacle for another car driver. When I stop at the side of the road, it's me who is blocking someone else's way.
And so, in the end, there is nothing really to be angry about.
◊ ◊ ◊
Cover image by Kevin Gent on Unsplash.